Examining What WWE Can Learn from Lucha Underground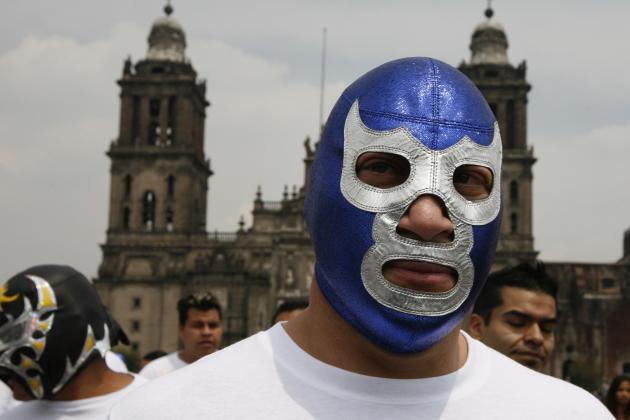 Wrestling fans should be watching Lucha Underground and so should WWE officials.
The innovative wrestling program on El Rey Network has kicked off with a crackling energy. Its fresh approach to wrestling storytelling and breakneck pace is something WWE would be wise to take note of.
An offshoot of Mexico's Asistencia Asesoria y Administracion, Lucha Underground is a slickly produced show featuring wrestlers from the indy wrestling circuit, AAA itself and a few faces WWE will recognize.
Filmmaker Robert Rodriguez's imprint is all over it. Producer Mark Burnett brings his robust resume to the ring. It's an action movie fused with lucha libre.
The result is something that grabs the audience's attention from the first frame. There is a tautness and excitement surrounding Lucha Underground that has alluded WWE in recent years.
As WWE once did with ECW, it should look to Lucha Underground for inspiration.
Cruiserweight Presentation
Lucha Underground has transformed indy sensation Ricochet into Prince Puma.
He's a fantastic athlete, a dizzying performer. Were he to go to WWE, fans would worry that he'd end up as a novelty act. He'd likely follow the path of men like Evan Bourne and Ultimo Dragon and have an underwhelming WWE career.
At Lucha Underground, Puma is portrayed as a mysterious masked superhero in spandex. 
Through various vignettes, the company makes him look equal parts powerful and majestic. Konnan introduces him in one of the Lucha Underground promo videos as someone born for greatness. He says of the star, "The myth of his family's tribe has shown him his destiny."
Puma is seen tearing a heavy punching bag from its chain with a right cross. 
That's miles apart from WWE building a story around Daniel Bryan based on him not being tall enough and not looking like a true champion. There is no mention of Puma's size (5'10'', 163 pounds); there is no discussion of what he can't do. He's made to look like something plucked from legends.
These are all things WWE should keep in mind when booking Adrian Neville, Sami Zayn and Bryan.
Craft a story around a larger-than-life element. Don't keep reminding us of what these guys aren't.
Women as Warriors
There's no reason why women can't provide sex appeal while still playing the part of gladiators.
The women of Lucha Underground aren't presented in the kind of alternate universe that the WWE Divas are. In WWE, the women's narratives aren't as edgy. And their matches are diluted versions of what the men produce.
As a result, the Divas matches feel too much like signals to go grab a snack.
The Lucha Underground women aren't called "Divas" and aren't as limited with what they're allowed to do in the ring. For instance, mixed-gender tag matches don't require a man to tag out if he's in there with a woman.
In the following video, Son of Havoc attempts to hit Sexy Star with a standing moonsault. Ivelisse runs in and nails Chavo Guerrero to break up a pin. It's all legal.
This isn't a one-time thing. In an
interview
with Raj Giri of Wrestling Inc, former WWE Superstar/interviewer and Matt Striker said that more inter-gender battles are coming.
He adds that "the girls are wrestling and fighting and they wanna be treated the same."
That statement rang true at the end of Lucha Underground's second episode. Guerrero turned on his allies and began to go on a rampage that included him knocking a pair of referees to the ground. When his partner Sexy Star came in the ring to stop him, Guerrero put her down with an echoing chair shot.

That's not something one ever sees in WWE.
It's not necessary to go this inter-gender route (something that may not be possible with a PG-TV rating), but the key takeaway is how compelling women wrestlers can be when they are not limited to catfighting and comedy.
Have them mix it up just as the men do. There are thrills to tap into there.
Pacing, Energy
WWE need not pinch Lucha Underground's visual style. While the show's gritty look is a welcome change from your standard wrestling program, it's the show's pace that WWE should be eyeing.
The audience is asked to fasten its seat belt and hold tight. Brisk vignettes follow fast-paced matches. There is little filler.
While it's easy to drift during Raw's three hours, Lucha Underground is looking to hook you from start to finish.
Not having comedy bits helps that. You'll find no men in bunny suits or dancing gimmicks here
The tight, focused show creates a compelling energy.
That energy translates to the announce desk where both the English and Spanish broadcast teams are more engaged than WWE's commentary team usually is. Instead of rambling on and joking as Michael Cole and company are known to do, Lucha Underground's announcers call the match. Striker throws in bits of exposition where needed.
The hurried, almost frantic pace of the show makes perfect sense for lucha libre, which is a faster, more acrobatic interpretation of wrestling.
It is something WWE can borrow from time to time as well. Fans shouldn't be given so many opportunities to tune out. Cram enough filler into Raw's three hours and even the most patient fan is going to flip over to Monday Night Football.
In its early stages, Lucha Underground is providing the blueprint for injecting adrenaline into wrestling. WWE is in no danger of not being king, but this fresh, fun upstart is well worth emulating.